Our Client Portfolio
On this page we present a very limited selection of client websites that we have designed, programmed, coded, developed and optimized. Trapik Media provided complete services ranging from content strategy, website development, logo identity design, and website branding, search engine positioning, search engine optimization, and converting site visitors to customers. We respect the request of Clients requesting confidentiality of our work for them especially with regard to Search Engine Optimization (SEO). This is a partial client listing and mostly of web site design and development clients only.
Florabella Flowers & Gifts

Send flowers and gifts to the Philippines via delivery by Florabella. We provided Florabella with an effective Internet florist solution making it easier for Filipinos such as OFWs abroad to send floral arrangements and flower based gift items by ordering online.
We created good web site branding by adapting their logo colors to the site design. We adapted the same web site as a template for OsCommerce online store Php script. With our strategic search engine optimization, the Florabella website gained favorable positioning on search engine results pages which enabled it to reach its target customers and enjoy increased business selling flowers online.
Visit Florabella and Send Flowers to The Philippines
SoundWeavers Recording Studio

Sound Weavers is an audio production and recording studio in the Philippines with state-of-the-art production facilities, a live recording area (Tracking Room) and Isolation Booth that doubles for songwriting/arranging and a Control Room for recording/mixing and mastering of music audio CDs.
Independent Filipino musicians and major label bands and artists produce and record their songs at Sound Weavers recording studio achieving the desired sound. The Makati, Metro Manila-based recording studio recently upgraded its digital audio workstation (DAW) software to Digidesign Pro Tools HD 7.4 which is the standard for audio recording, editing and production in music and film industries around the world.
Visit Sound Weavers Music Production Studio now.
Sabong Cockfighting

Since March 2000, our company President has guided Sabong to be the world's most popular Cockfighting, Game Cock and GameFowl information and community web site. Built around the loyal following of sabungeros (cockfighters) and fervent activities in the "Posting Pit", the Sabong web site features interactivity where users can upload and share photos and videos, participate in online games and social networking.
Visit Sabong Cockfighting
Manila Prince Hotel (2006)
Manila Prince Hotel is a hotel property in the Philippines that has been marked for sale. A unique opportunity to own and invest in a newly renovated and fully furnished luxury hotel in Manila that is ready for operation.
We have created a hotel web site complete with photo slide shows and video tours before the advent of YouTube , Slide and similar Web 2.0 multimedia applications. The Manila Prince Hotel website was designed and optimized to emphasize the uncompromising luxury within a complete hotel experience and the viability of the property as a hotel business in the Philippines.
As of 2008, the hosting for the Manila Prince Hotel web site has been discontinued by the owners and thus is no longer accessible. Another website design for the same client is still active at Legacy Ventures, a real estate developer in the Philippines.
National Life Insurance (2005)

National Life Insurance Company of the Philippines is an insurance business that has been serving Filipino investors for more than 70 years. We created a very challenging Flash animation movie for the home page, that was also integrated throughout the web site. The web site design sported a clean and elegant look so as to uplift the security and trust that insurance companies must project to its customers.
As of 2007, the National Life Insurance web site has been discontinued by the owners and thus is no longer accessible.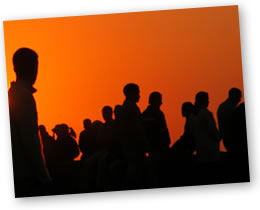 Trapik Media Services
SEO & Marketing Blog